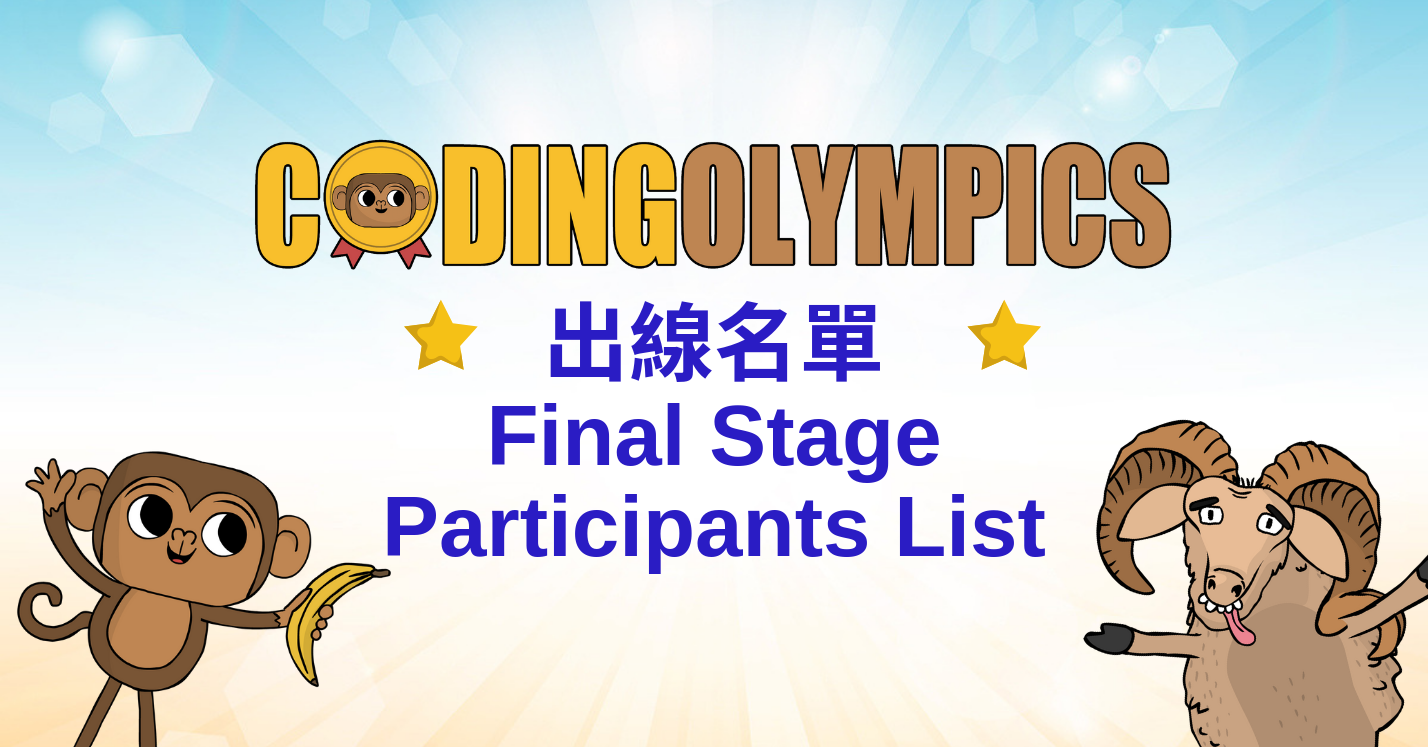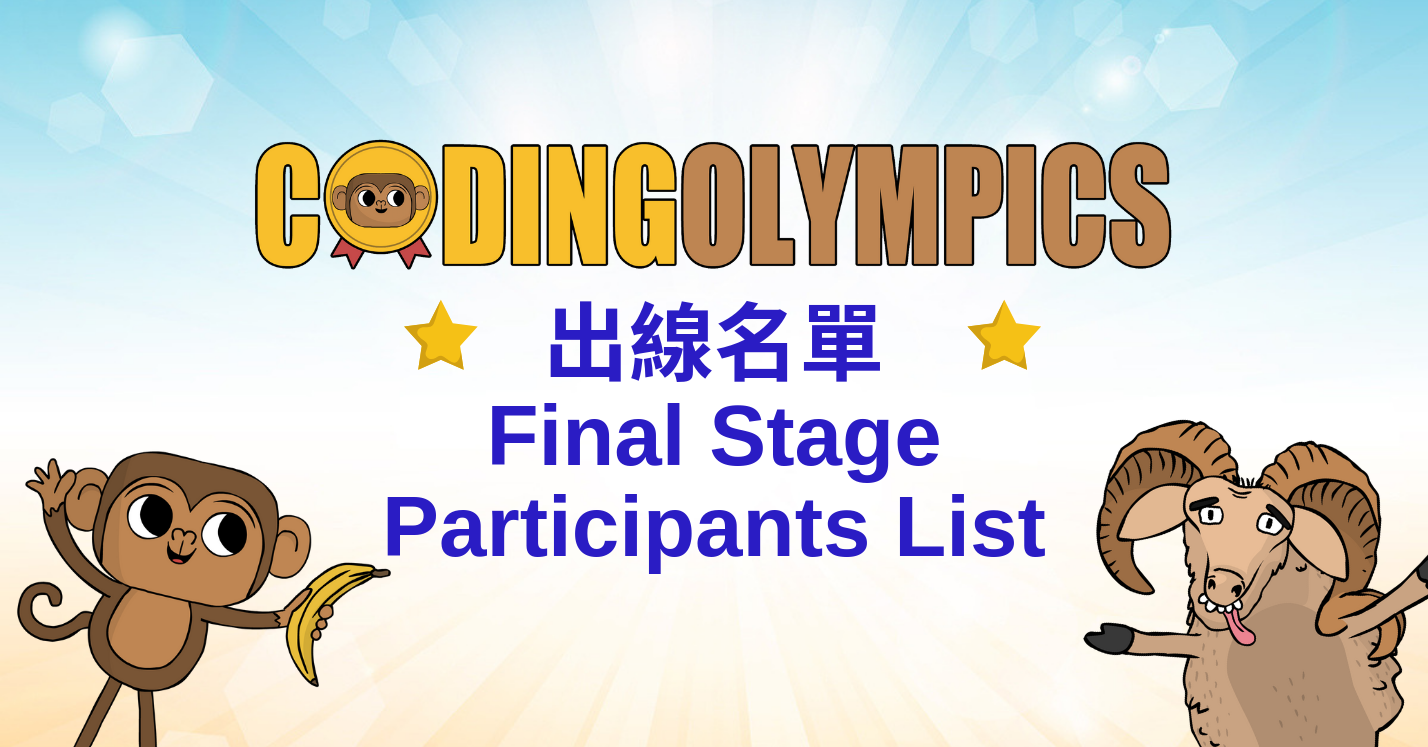 Coding Olympics初賽已經結束,接下來就是決賽了!敬請留意:大會將會以電郵及電話聯絡的方式來通知出線的參賽者及隊伍。
日期:2019年8月25日(星期日)

地點:CGA香港電競館 CGA eSports Stadium – 旺角奶路臣街38號麥花臣匯G/F (麥花臣球場旁),旺角E2出口直約5分鐘
報到時間:上午9:45時

決賽時間:上午10:00時 – 中午12:00時
注意事項及守則:
如未能在決賽當天出席,最遲在8月22日星期四前通知主辦單位。

請家長/負責老師在細閱及同意比賽詳情及注意事項後,請打印出通知電郵簽署作實,並請參賽者在準時報到時必須遞交已簽妥的郵件以核實身份。

如參賽者於10時前仍未報到,將被視為放棄參賽。

如有身體殘障或行動不便的參賽者需要本會在比賽當日提供幫忙或協助,請預早在8月22日星期四前通知主辦單位。

比賽區域只容許參賽者及工作人員內進。

比賽期間,請參賽者保管好個人財物。

比賽期間,嚴禁攝錄、飲食及擅離座位。

活動期間大會將進行拍照及攝錄,所得的照片或影片將會用於任何用途,包括廣告、宣傳、推廣或其他主辦機構認可之用途,以供宣傳及推廣服務。

決賽結果將於當日公佈並於上午11:30時進行頒獎儀式,家長可到CGA電競館的大堂參與。

請負責老師及家長督促及照顧參賽者前往及離開參賽場地的安全,免生意外。

團隊賽每隊成員需共用二台電腦,請組員預先溝通自行分配。

參加賽將被視為同意及遵守上述注意事項。如有意見,請致電2572 7228查詢。
Coding Olympics first stage is closed! And the final stage is coming soon! Please kindly note that we are going to contact the final stage participants by email and phone call.
Final Stage Participant List as below:
Date: 25th Aug 2019 (Sunday)

Venus: CGA eSports Stadium – G/F, 38 Nelson Street, Mong Kok, Kowloon (next to Macpherson Playground),5 min from Mong Kok station exit E2
Registration: 9:45am

Time: 10am – 12pm
Rules & Condition:
Please contact us before or on 22nd Aug (Thu) if participants cannot attend the final stage.

Teachers and parents please and agree the rules and condition of the competition. Please print and bring the signed final stage notification email for verification.

We will consider the participants as abstain the competition if the participants do not register before 10am.

Please contact us before 22nd Aug (Thu) if the participants who are physical disability and need assistance.

Competition area allow participants and staffs enter only.。

Participants have to keep personal belongings during the competition.

Participants are prohibited to taking photos, eating or drinking and leave the seat during the competition.

We will have official photo taking and video shooting during the competition. All the photos and videos will be used at our promotion use.

Parents and teachers can join the award ceremony at 11:30am in CGA eSports Stadium lobby.

Teachers and parents are responsible for the participants' safety of going and leaving from eSports Stadium.。

Each team from group competition is required to share two computers.

All the final stage participants are considered as agree and follow above rules and condition. Should you have any questions, please contact us at 2572 7228.